I was about a quarter of the way into writing a new novel when I made a stomach-churning discovery.
With the second half of The Walking Dead Season 4 beheaded and Season 1 of The Strain with a stake through its chest, I desperately needed a new TV show to get my teeth (pun not entirely unintended) stuck into. Having nothing left in my To-Watch folder, I wandered off for a browse around the online shelves, where I came across a French TV series called The Returned.
Interesting.
That particular title (one couldn't honestly say it was in any way unique) was one I had toyed around with for my book. Hmmm. What were the odds?
A quick read of the show's plot confirmed my worst fears. The Returned (Les Revenants) centres on a small town in the Alps where the relatively recently deceased start showing up again at their familys' doorsteps, with foreseen as well as unforeseen results.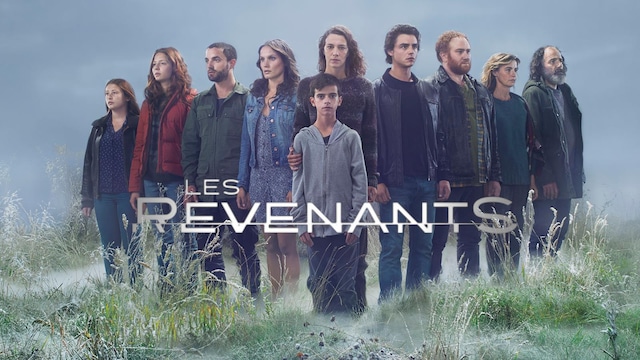 It turned out to be a pretty good watch, a really interesting idea, the type of story that was right up my street. But then it would be, wouldn't it? It was as near as damn it the novel I was working on. Jaysus. I'd had some kind of a look around when I hatched the idea for my story and somehow managed not to uncover this show.
Of course there were some differences between my work and The Returning. Three or four major ones in fact. But come on. It was the same story, by and large.
That's that then, I thought. Pen down. Or fold the screen down anyway. Chuck the laptop in the bin and go have a cry out in the rain.
Except I didn't.
I can't really afford to be going throwing laptops in the trash — who can? — and it wasn't raining at the time. So I instead immediately went back to my Imagine-If file. You know. The Word doc you keep with bullet points of half-formed thoughts that could be ideas that might possibly, with a good kicking, be fashioned and crafted and pummelled into a story.
Luckily, I did find something. And after searching again for something like it on Amazon and other ports of call and not finding anything similar (I think), I got to outlining and furious note-making and all that other exciting stuff. Story about dead people coming back to life now consigned to the half-finished manuscript graveyard.
Dead and buried.
Until I spotted a review of Marcus Sakey's Brilliance on Amazon. This I had done after reading his second book in the saga, A Better World, a few weeks before. I never read 5 star reviews. I go straight to the ones, two and threes. And somewhere in there I found a quip that made me think. It went something along the lines of, "This story has been done before."
Now I would be lying if, on reading the first book in Sakey's series, the thought that the story was very familiar had not occurred to me too.
To save you flitting off and Amazoning it now yourself, in a nutshell, it revolves around a group of people born with special abilities that most of the world's humans do not possess, which makes said humans very afraid and in turn belligerent towards said people with special abilities.
Or mutants, you might say.
At no stage did I stop and think while I was reading, hang on this is a Heroes rip-off, which could have been construed as an X-Men rip-off, and throw the book down in disgust. No. Brilliance has its own individual take on mutants (though that particular word is never uttered — Relax, Stan). And it's not the first book or movie out there based on people with superhuman powers I have managed to sit through without cries of 'Copycat Hack' entering my head.
How come? Because mutants have become a genre in their own right, joining the ranks of cowboys, private detectives, elves, serial killers and, of course, vampires.
If we were all forced to cease writing a story because we recognised a common trope or familiar character with a particular trait, then the tale of Dracula would never have come to be. Before deciding to write this piece I kind of always just assumed Dracula to be the original vampire tale, wondering just where the hell Bram Stoker came up with the sick notion for a blood-sucking Transylvanian nobleman. As it transpires, vampire fiction is rooted in the 1720s and Central Europe, and was almost 170 years old when the Irish author put pen to paper.
What if Stoker had thought better of writing Dracula simply because "it had been done before"? It's safe to say that without Dracula, there would have been no Salem's Lot, no Interview with the Vampire, no I Am Legend, indeed no The Strain… and no Twilight Saga, which just doesn't bear thinking about, does it?
Which all gets me to thinking: is dead-people-showing-back-up-alive-on-their-doorsteps a genre too? It's definitely not a new concept. People who are supposed to be dead have been showing up again in stories for hundreds of years.
Isn't that what zombies are? They've shuffled back into popularity on a massive scale in the last few years, in print as well as on screen. In a strange, unnerving way, dead people still in possession of their skin and all their humanly faculties are much scarier.
I'm glad I didn't bin that laptop now, because very soon I will be revisiting that story. And as long as I double-check that no one in those pages speaks French or lives (or dies) in the Alps or does anything I saw in that TV programme, or in They Came Back (the 2004 French film upon which Les Revenants is based), I'll be safe in the knowledge that I'm not copying something, but adding to a genre.